Choosing a Roofing Contractor- Top 5 Topics to Consider
When it comes to getting the new roof you need at a price you can afford, picking the right roofing contractor can make all the difference in the world. Simply typing "roofing contractors Twin Lakes, Wisconsin" into Google and reading reviews left by previous customers is an easy way to compile a list of local contractors in your area.  Once you have a list, here are some pointers that will assist you in assessing the potential roofing contractors, as well as some issues to consider keeping in mind when comparing bids and making your ultimate choice.
1. Get More Than One Quote
A best practice is to have at least 3 quotes. Getting two to three quotes from different contractors gives you a chance to compare prices. While being mindful of your budget, it's important to also invest in quality. Be aware that some contractors will sacrifice quality to cut down on the costs to earn your business. Make sure the labor prices are included in the final bids. Some businesses may quote only the material costs and then add on the labor charges after you sign the contract. Always check references, make sure you understand everything and get it in writing before signing anything. Click here to schedule free estimate from Absolute Roofing.
2. Check Out  Reviews Online
Paying a lot of money for a new roof and then having leaks within a few years is a major letdown. It's smart to look up your contractor on search engines and review sites like Google and Yelp before making any commitments. It's helpful to read what other homeowners thought of the contractor you're considering hiring. Don't be reluctant to contact others who have used your prospective contractor if you think everything appears right but want a second opinion.
3. Check Out Their Work for Yourself
While doing an in-person job site visit would be optimal, sometimes this is not convenient for you. Check the contractor's website to see before and after photos of their work. This will help you to physically see their work and if it's up to your standards and similar to what you are looking for on your personal project. To check out our work at Absolute Roofing, click here.
4. Ask for Referrals
Recommendations from friends and family are the best source for locating a reliable roofing contractor. When deciding whom to hire, ask the contractor to give you past client's information so you can contact them directly and hear from the client about the contractor's work
5. Ask Tough Questions
Find a few potential contractors who look like a good fit, then schedule in-person interviews with each to compare notes. You may learn more about their processes and the quality of the services they provide by talking to them directly. You should also inquire about the specific roofing materials that will be used. Is new technology being used, or will they be using conventional shingles? How long have they been in business? What is their warranty policy? Do your homework before hiring a new contractor; you don't want to find out the hard way if he didn't deliver as promised. Absolute Roofing will be happy to schedule a free estimate to discuss your roofing project.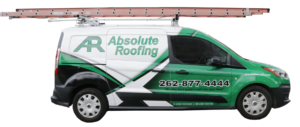 Finding the right contractor requires some legwork on your part. Doing so involves researching potential partners in-depth, investigating their credentials, checking references, etc.  Don't be reluctant to ask for answers to your questions to be put in writing if you have any concerns. Finding a trustworthy roofing business shouldn't be a mystery, and neither should their motivations. All this work will significantly reduce the possibility that you'll get unsatisfactory results in the long run.