Without proper care and upkeep, your roof may need to be replaced considerably sooner than the typical 30-year lifespan. You don't have to be an expert on roofing to have some idea of the several types of repairs that could be necessary for your roof. Read on for a list of the top 6 most frequent residential or commercial roof repairs for the Twin Lakes, Wisconsin and surrounding area.
1. Flashing Repair or Replacement
Repairing or replacing flashing can be a crucial step for many roof repairs, as improperly installed flashing can prevent the eaves and rakes of your roof from functioning correctly. This type of repair typically works to redirect water away from different sections of your roof, while also preventing debris like leaves and sticks from causing damage. In cases where your flashing is no longer doing the job it was originally intended for, then it may be right to invest in new flashing that can better protect your home against the weather in Wisconsin and other elements. If left unaddressed, improper flashing can lead to further issues such as shingle or tile replacement, gutter maintenance or repair, ponding water, and leaks, which are some of the most typical signs of a deteriorated roof in need of some maintenance.
2. Shingle or Tile Replacement
Replacing shingles or tiles is one of the most common roof repairs. If your shingles are cracked, missing, or curling, it's time to replace them. Curing shingles are caused by poor quality or installation but in climates like Wisconsin, it's mostly due to extremely cold temperatures. Shingle replacement is a relatively straightforward process, but it's important to hire a qualified roofer to do the job. Tile replacement is more involved and should only be attempted by roofers, like the experienced team at Absolute Roofing.
3. Gutter Maintenance and Repair
Regularly maintaining and repairing your home's gutters is an important part of keeping a safe and healthy roof. Clogged or damaged gutters can cause water to overflow into walls, windows, and other areas of the home and can potentially lead to structural damage. It is strongly recommended that you inspect and clean your gutters at least twice a year- once in early spring, and again in late fall after most of the leaves have fallen and before the cold winters of Paddock Lake, WI. Additionally, ensure that all joints are tightly fastened together to prevent water from overflowing in between sections. Although taking extra precautions with gutter maintenance may seem like a hassle initially, doing so now can save you from needing major repairs in the long run!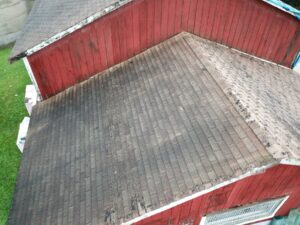 4. Ponding or Standing Water Repair
One of the most common roof repairs that a homeowner needs is fixing ponding water, which occurs when rain and snow accumulate on your roof and form pools of standing water. A variety of problems can arise from this, such as damaging shingles or even a weakened structure. As soon as you notice any ponding on your roof, it's essential to address the issue immediately to prevent further damage and costly repairs. Fortunately, there are repair options available depending on the severity of the problem. For instance, applying a reinforcing fabric to cracked or split areas can help reduce further damage before completely replacing the damaged area with new roofing material. It is best to consult a roofing expert at Absolute Roofing for assistance when dealing with these types of roof repairs so that you can fix your roof properly and keep it in good condition for years to come.
5. Leak Repair
Leak repair is a common task in any home maintenance routine. Of the 6 most typical types of roof repairs, leak repair is one of the foremost steps to prevent further damage and potential water intrusion into a home. Any water contamination can cause mold, mildew, and dry rot, as well as erode foundation integrity and weaken critical structural components which can lead to serious damage. When detected early, leak repair can be done at an affordable cost with dependable results. Therefore, it is always recommended to inspect the roof and related areas regularly to take necessary action when needed.
6. Poor Ventilation Repair
Poor ventilation in your roof can cause a myriad of problems, including moisture buildup and trapped heat. In many instances minimized ventilation can lead to costly repairs due to the damage created by it. However, if caught and addressed early on, a repair can be done relatively quickly and easily. Basic solutions involve adding new soffit vents, caulking and sealing air leaks, inspecting insulation levels, or replacing damaged flashings. It is important to repair these issues now as they help rid your home of damaging moisture buildup and trapped heat. Further neglect may turn an easy fix into more complex and possibly expensive repairs that you'd want to avoid.


It might be challenging to know who to trust when it comes to selecting a roofing repair company. You need your roof fixed, but you want to make sure you're not overpaying and that the work will last. You should hire a roofing contractor who will not ignore problems in the interest of keeping costs down, who will always follow through, and who will not take any shortcuts. You need the roofing experts at Absolute Roofing. Since 2005, we have been servicing the  Racine and Kenosha counties in Wisconsin. Call us today to schedule your free consultation and estimate for all your roofing needs.